Today I'll be taking a look at the DeLonghi ESAM 2900, as requested. DeLonghi sure has been busy turning out automatic espresso machines to meet the needs to consumers who aren't looking to spend much. It's likely the market leader in the sub- £300 price class, and they keep introducing new machines that are (supposedly) better than their predecessors.
You can find all the reviews on the best espresso machines here.
We've also been continually testing and reviewing new DeLonghi machines. This time it's the DeLonghi ESAM 2900's turn. It costs just under £270 on Amazon.co.uk and is more or less the follow-up to the ESAM 3000.
If you really want to have the full audiovisual experience, you can check out my review of the ESAM 2900 on our YouTube channel.
The main questions that we need to answer when doing a test and review is whether this ESAM machine can do better or worse than its predecessors and comparable machines, and whether DeLonghi can really make a high-quality machine for less than £300.
Overview: Do I Recommend the DeLonghi ESAM 2900?
Alright, let's get this review going. As is the case with the ESAM 3000, the 2900 lets you operate everything important from the front of the machine. The water tank opens to the front, the brewing unit comes out from the front, etc.
That's a rather practical distinguishing characteristic that cheap automatic espresso machines don't offer—and which even some expensive ones rarely offer.
Although the ESAM 2900 doesn't offer many customizable options, you'll generally not miss them. After all, who among us (including coffee nerds) really need to change much more than grind coarseness, the amount of coffee, and the amount of water? In other words, the DeLonghi ESAM 2900 really is worthy of all parts of the name "super automatic espresso machine."
The milk foam and espresso results were also surprisingly good. That makes the ESAM 2900 a best buy in terms of providing performance for a good price. You'll just have to come to terms with the fact that it's not about to win any beauty contests; if it's too ugly for you, you can just cover it with a towel!
So in summary, yes, I do recommend this machine, as long as you take the following factors into account:
Advantages
Everything is operable from the front
Easy to use
Very good balance between price and performance
Removable brewing unit
Good espresso
Good milk foam
Inexpensive
Easy to clean
Relatively quiet
Disadvantages
Was brutally beaten with the Ugly Stick
No Display
As you'll see later on, you probably won't actually miss the display in most cases. And seeing as there are so few settings, including one wouldn't be necessary anyhow.
The ESAM 2900 Compared to the ESAM 3000 and Other Machines
The DeLonghi company is apparently very fond of confusing customers like you and me. With so many model lines and numbers, it's nigh on impossible to see what the differences between models are. Often, those differences are just small little details.
The ESAM 2900 is basically the direct descendant to the ESAM 3000. I already reviewed the "B" (for "black") version of the latter machine. At the same time, the ESAM 2900 is also a current alternative to the DeLonghi ECAM 22.110.B, which also did a good job in our test, but fell short when it came to some important details.
The manufacturer noticed a few small problems with the ESAM 3000, and decided to address them through the 2900. At the same time, they removed a few frills or confusing features that most automatic espresso machine users hardly use anyhow.
Additionally, the ESAM 2900 is a bit quieter than the ESAM 3000. In comparison to the ECAM 22.110.B, there's only a micro-decibel difference in terms of noise—at least to my ears. The espresso from the 2900 also came out a tad better than I got from both of the other models.
The 2900 is a bit heavier and larger on the whole than the ECAM machine, and unfortunately it's got more plastic components than the ESAM 3000 had. We could continue comparing each little detail between these two machines, but one or the other would just win by a hair in any comparison.
To summarize: The DeLonghi ESAM 2900 is a "true" and worthy successor to the DeLonghi ESAM 3000. It's solved some of the problems its predecessor had, which allows it to be a "real" super automatic espresso machine that focuses on results above all else.
Of course, that doesn't mean you should chuck your ESAM 3000 out the window, nor should you doubt yourself if you've decided to get the ECAM model. But if you're looking at DeLonghi machines and want to buy your first super automatic espresso machine, then the ESAM 2900 is the best current option in this price class.
Technical Specifications and Overview of Features
Category
Value
Name
ESAM 2900
Manufacturer
DeLonghi
Dimensions (WxDxH)
11.4 in x 15 in x 14.2 in
(29 cm x 38 cm x 36 cm)

Power, in W
1,450
Maximum pump pressure
15 bars
Separate compartment for ground coffee
✔
Cup warmer
✔
Grinder
Stainless steel conical grinder
Removable brewing unit
✔
Removable water tank

✔
Water filter
✔
Weight
22 pounds (10 kg)
These specs are a good indicator that this is a machine that includes everything that you'll actually need. Now let's take a closer look at what exactly those features are.
The Spout Height
The ESAM 2900 passed my "IKEA Glass Test" with flying colors. The machine has a spout that you can adjust really high up (4.3 inches or 11 cm), and it didn't have any problems with shorter cups, either. The spout was very exact and everything went right from the spout into even the smallest cup (or two cups) I used.
The Grinder
That's a stainless-steel conical grinder that you hear rumbling away on this machine. Although I already mentioned that this machine is quieter than comparable models, understand that it's really just "quiet" for its price class.
DeLonghi offers 13 coarseness settings with this machine, but in reality only about seven are usable. I made very good espressos by setting the grinder to just under level 3, which worked the best.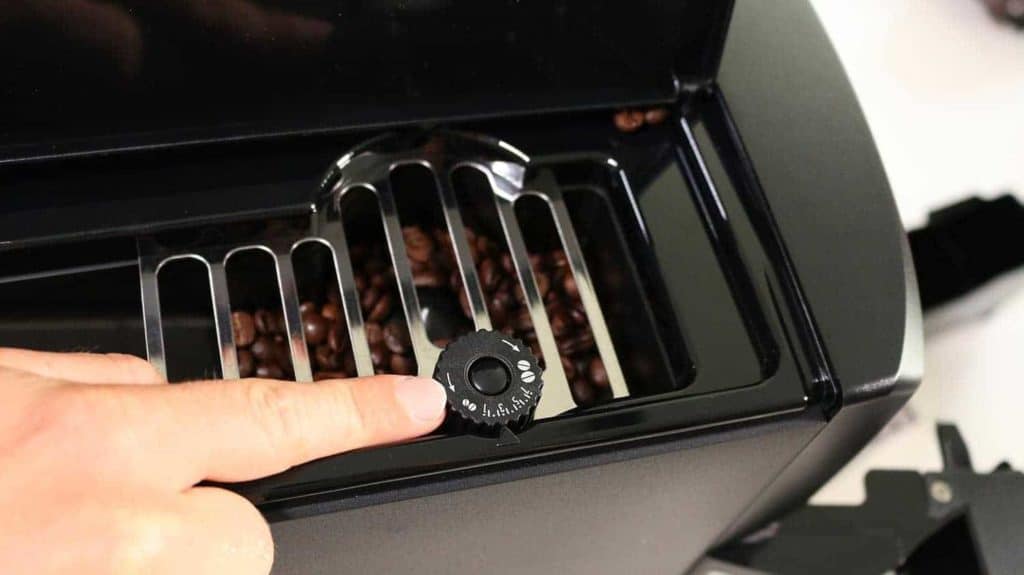 Milk Frother
You might not really register that this is a low-priced machine until you check out the milk frother. Expensive automatic machines include whole systems to handle milk, but the ESAM 2900 comes with "only" a steam wand.
Indeed, that does go a bit against the very concept of a "super automatic" machine, but at least it's very simple to use. What's more, it's the ideal way to practice your milk foaming skills. The steam wand is also perfect if you feel like making a dirty matcha or another mixed drink.
The wand delivers more than enough pressure, and it's not like you're going to be making 5 liters of milk foam anyhow. Depending on your barista skills, you might end up with some holes and/or the foam might not be too creamy (or too thick), but that just means that you'll need to practice some more. To see how I use the steam wand, check out the review video for the DeLonghi ESAM 2900.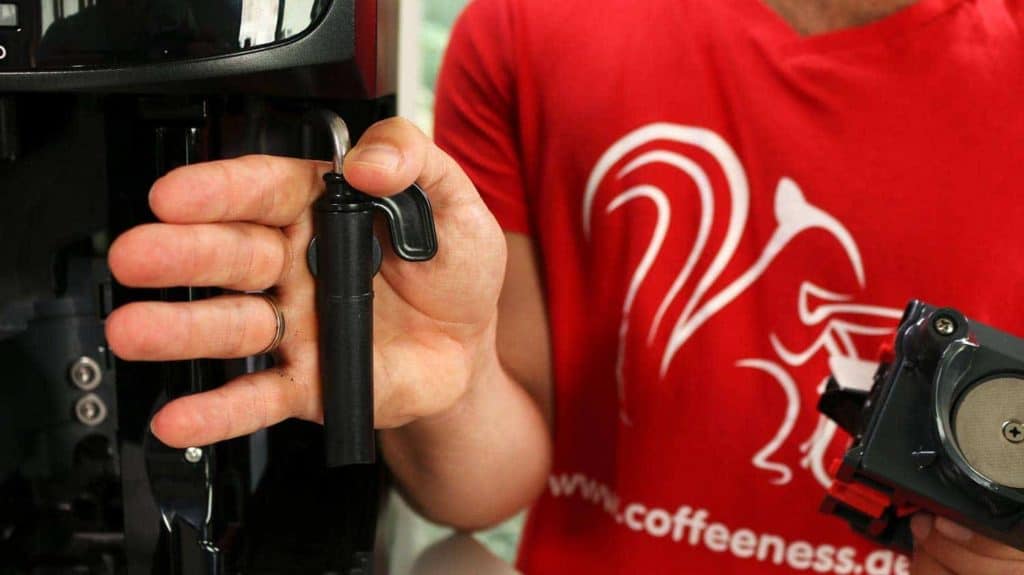 The Water Filter, The Bean Compartment and The Other Usual Suspects
The ESAM 2900 comes with everything that an automatic espresso machine should have. It has a heated cup holder, and the catch tray and drip trays are both large enough and, as mentioned, are easily accessible from the front.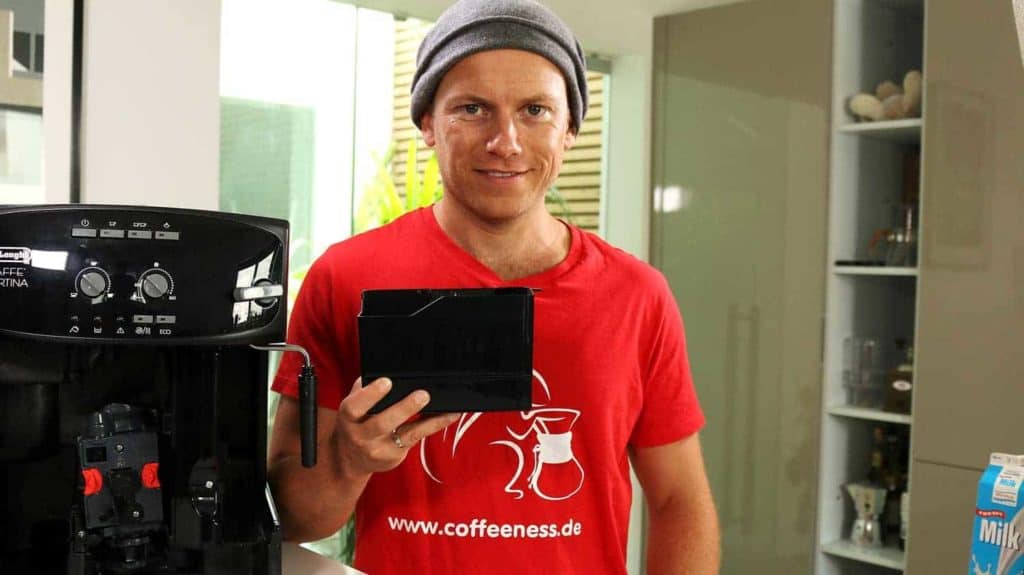 I say it's high time that the manufacturers dump these pointless compartments for ground coffee – I'm hereby starting a petition! What's the use of them?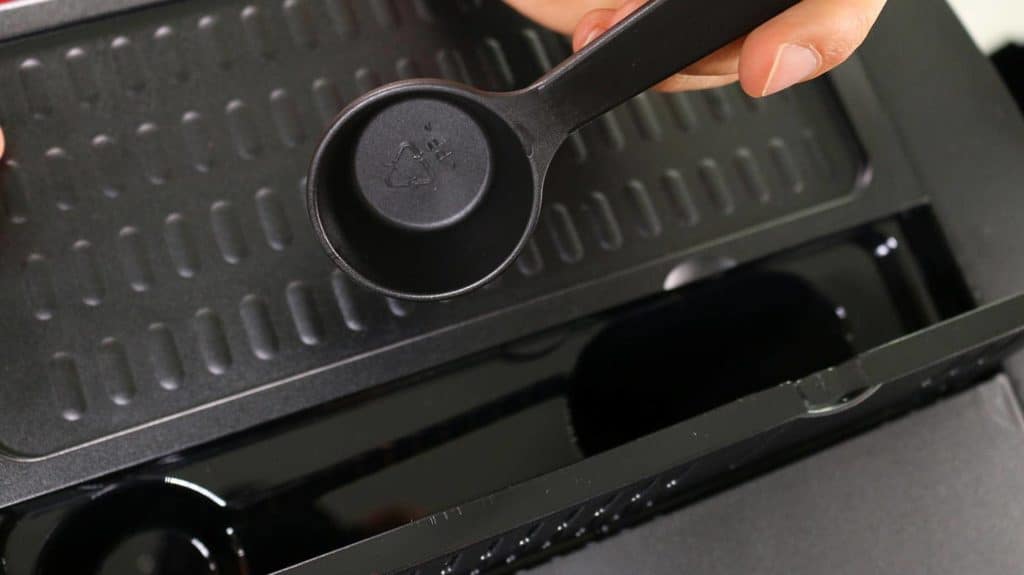 Anyhow, back to the machine. This one doesn't really do anything much differently than the competition. The main noticeable thing is the drip tray. Most machines have a stainless steel tray, but this one is plastic.
I don't actually have any problem with that in this case because it matches the rest of the plastic on the machine, and it'll probably tend to get fewer scratches than a steel one.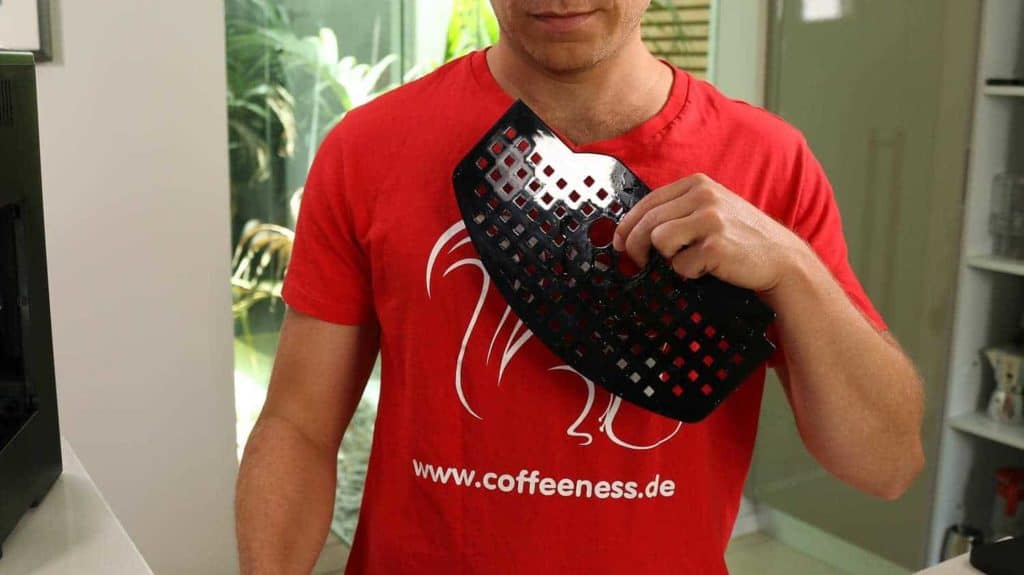 The Brewing Unit
You'll notice right away how practical and hygienic it is to have a brewing unit that's removable from the front of the machine.
Especially if you have a smaller kitchen that's already crammed with other stuff, it can be a big pain if you have to pull out and/or turn around a machine in order to access this important component.
Having this access from the front also of course means that it's easier to get at the insides of the machine, which you should also clean carefully.
And if the brewing unit dies on you, it's also easy to order a replacement from Amazon—and even quite inexpensive. That makes replacing it a snap.
This is also a good time to repeat my Public Service Announcement:
You should ALWAYS be sure to properly turn off your DeLonghi ESAM 2900 before attempting to remove the brewing unit. If you shut it off when it's in the wrong position, it might jam the machine or cause other damage.
The Water Tank
Like the brewing unit, the water tank shares all of the positive aspects of having a machine that's easily accessible from the front. It's easy to remove and clean the tank. Especially since so many people tend to forget to clean the tank, anything that makes cleaning easier is a plus.
The machine includes a rudimentary water filter that's similar to the one that comes with the ESAM 3000, but it's quite basic. It probably won't remove all the calcium from your tap water, in other words.
That's not a huge issue, but you will have to decalcify the machine more frequently and/or run your water through a Britta filter before using it in the machine. That's a step that's ALWAYS worth doing, and it's one of the first tenets of Coffeeness Wisdom that our readers learn!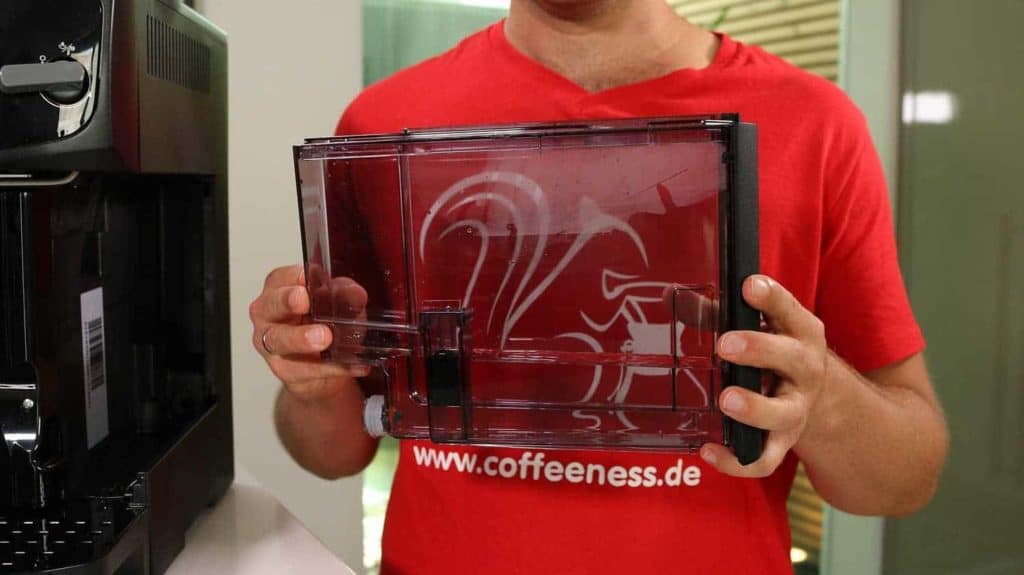 Here once again is our handy little water hardness chart:
| Level | Degree of Hardness | Millimoles of Calcium Carbonate per Liter | German Hardness (dH) Degrees | How Often Should I Decalcify? |
| --- | --- | --- | --- | --- |
| 1 | Soft | Fewer than 1.5 | Fewer than 8.4 °dH | Rarely |
| 2 | Medium | 1.5 to 2.5 | 8.4 to 14 °dH | Occasionally |
| 3 | Hard | More than 2.5 | More than 14 °dH | Often |
I've already gone into much more detail in my guide to electric water kettles. That guide also has many tips about that liquid wonder that is the starting point for making perfect coffee.
The Controls
Even if the buttons and knobs aren't of the highest possible quality, they still get the job done. They adjust smoothly and infinitely, and are practically self-explanatory. As you might expect for this price, there's no display, but it's not an issue because there are so few things you need to adjust or set.
A quick overview of the buttons and knobs:
ON/OFF button
Single/Double cup button
Air nozzle
Knob for hot water
Knob for water amount
Knob for coffee amount
Button for cleaning program
The "ECO" button has long confused DeLonghi users, and many of them simply never press it. Basically, it's an energy-saving button for the thermoblock heater, which turns down the temperature after a set period of time.
That may not sound too exciting but it also allows you to adjust the standby time for the machine. Normally, it goes into standby after two hours, which is very long for many users. So you might as well set it to 15 minutes and save a bit of money on your power bill!
Using the ESAM 2900
As I already mentioned at the beginning, any super automatic espresso machine that's worth its salt should be simple to use. And the DeLonghi ESAM 2900 is outstanding in this regard.
The most complicated thing is finding just the right balance between grind coarseness (which you can adjust with a simple dial next to the bean compartment), water amount, and coffee amount. But that's really it!
As is the case with most small or entry-level automatic espresso machines, the finest grinder settings on the ESAM 2900 give you ground coffee that's too fine, which means that the water can't make its way through the puck and out the spout. Therefore, I settled on level 3, which was relatively coarse in comparison.
You'll also likely end up at the lower end of the scale when it comes to setting the water amount, while the amount of coffee will be near the high end of the scale. With a bit of tweaking, you'll probably get a very decent "automatic" espresso that yields:
Around 20 ml of water (a bit less than an ounce)
A brewing flow time of around 25 seconds
Because you simply have to turn a dial to adjust everything, the ESAM 2900 is easy to experiment with.
You can see the result that I got from my optimized settings. The creama is thick and very nicely colored, and the whole thing tastes very good and only took a few minutes for the machine to make.
Don't forget: Even though it looks similar, an "espresso" from an automatic espresso machine isn't actually a true Italian espresso; you can learn more in my overview article about automatic espresso machines. But we can likely agree that the "espresso" from this machine comes pretty close to the real thing—after all, it's an Italian machine, so they must know how to do something right!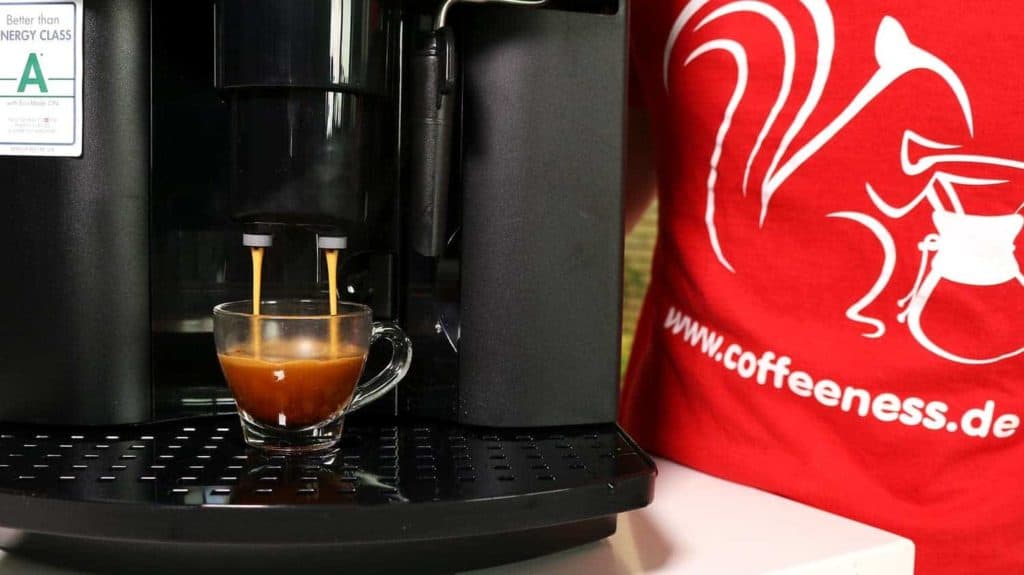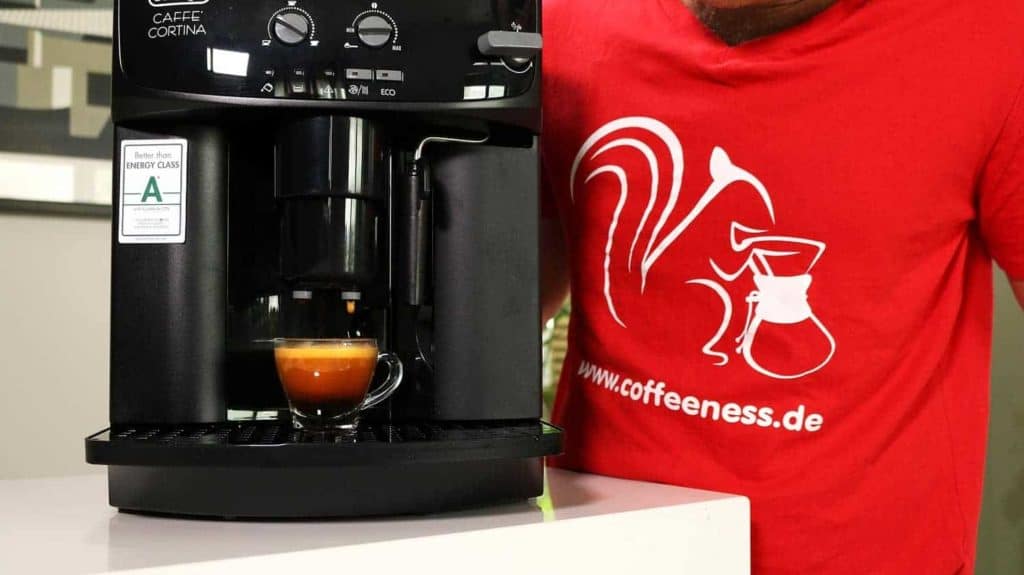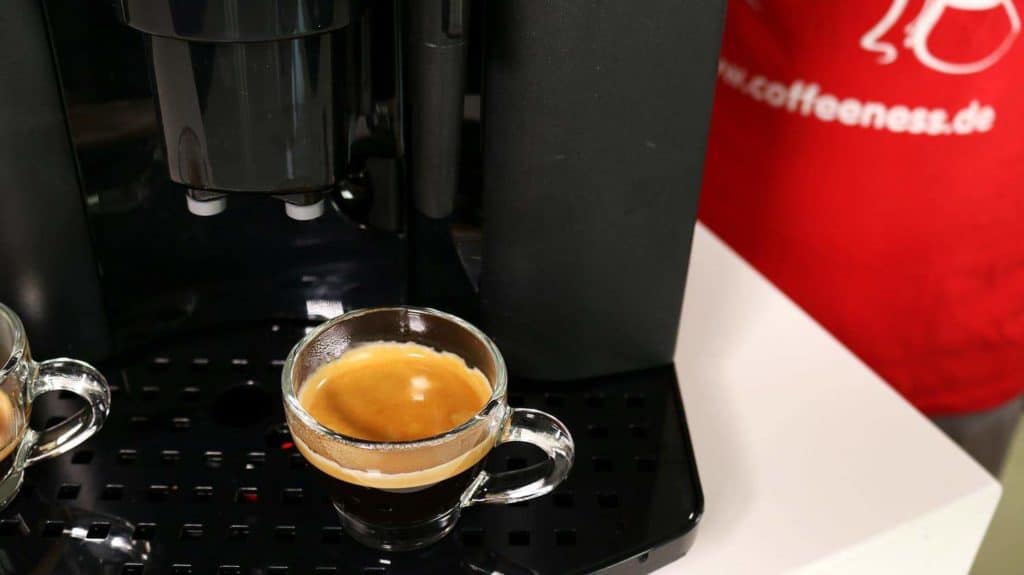 I also mentioned that the steam wand didn't cause any trouble. The hot water nozzle, which comes out of the same wand, can really sputter a lot, though that's the case with all machines. But you'll have to really pay attention so you don't scald yourself. A tall glass with a good handle can help!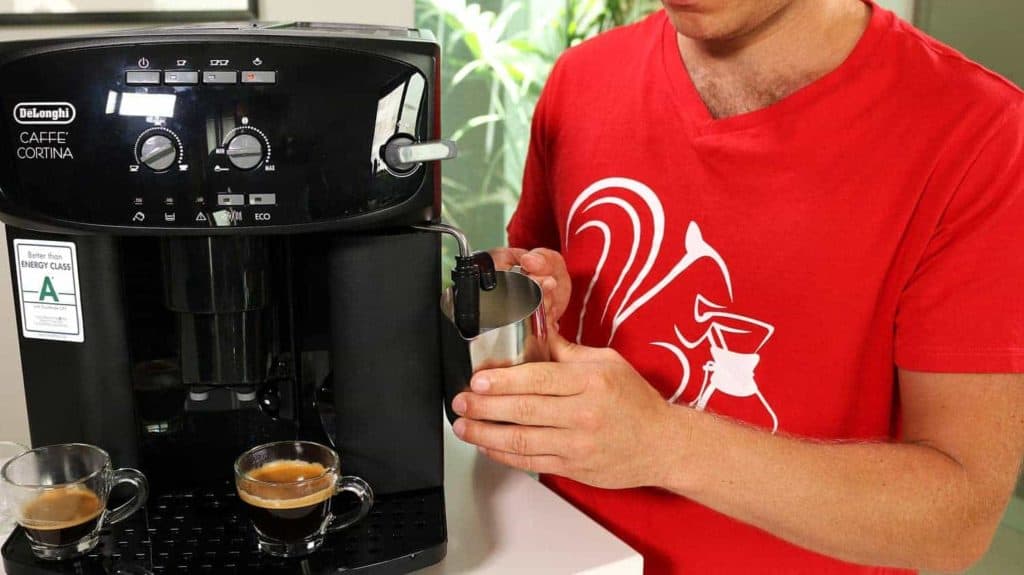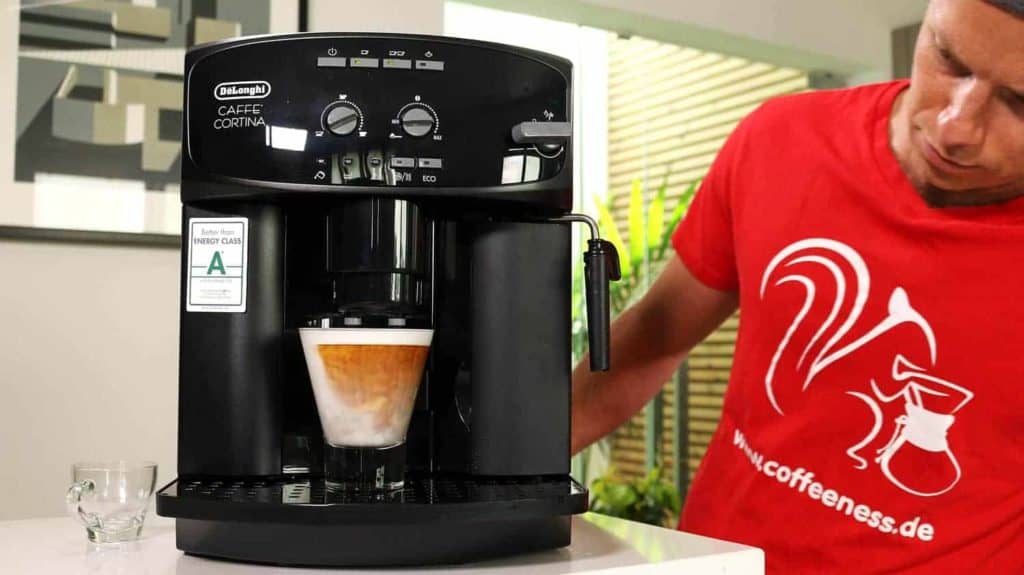 If the machine complains that the catch tray or drip tray is full, you just need to remove the tray from the front and empty it out. It's really simple.
I didn't have any problems using the DeLonghi ESAM 2900. Unfortunately, I can't say the same for all the products that come from that company.
Cleaning
Let's talk about more things that make using the ESAM 2900 easier. You might generally be lazy when it comes to cleaning your machine, but now you don't have any more excuses. After all, you don't even have to move the machine to completely take it apart.
Clean out the drip and catch trays daily. Use a touch of dish soap and running water, and it practically cleans itself.
You should also frequently remove the brewing unit and wash it out with running water (but without soap!), and you should occasionally rub a few drops of special oil on the moving parts. If it starts squeaking like a busted fan belt, then you'll know it's definitely time.
As was the case with all the other DeLonghi machines we've reviewed (such as the DeLonghi ECAM 22.110.B), removing or replacing the unit isn't rocket science.
All of the other important parts are easy to clean. The only thing that's a bit more complicated is the grinder—get a pro to help there, or else proceed very carefully by yourself.
For the other parts, it's best to simply use the cleaning program and the proper cleaner.
By the way, if you're smart about using the ECO button, you'll have a win-win situation since the machine will do an additional cleaning cycle when it shuts itself down. That's something where it's best to err on the side of cleaning too frequently, as opposed to not frequently enough.
If you adjust the standby time downwards, the machine will turn off more often, giving you a double cleaning every day. Remember, the machine can't make you do anything, and it will only refuse to work if there are very obvious problems. So if it's time to clean or decalcify, it's best for you to take the initiative and run the program, without waiting to hear from the machine first.
But I can't think of any reason you shouldn't be able to keep your ESAM 2900 immaculately spic-and-span. The only way it would be easier is if you had a robotic butler to clean it for you.
DeLonghi ESAM 2900 - Summary of the Review
It's incredible that DeLonghi continues to lead the competition not only when it comes to inexpensive machines, but also that it's basically dominating the price class.
The DeLonghi ESAM 2900 is certainly a clear improvement on the ESAM 3000, even if its design hints at its cheap price tag. You can check out the machine here on Amazon.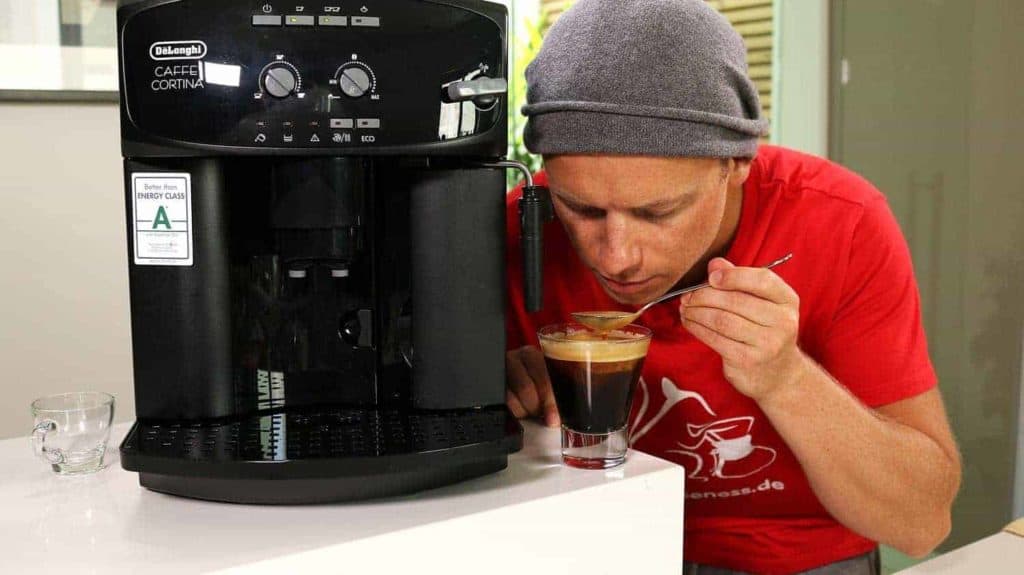 The obviously improved grinder is another good thing, and the most important thing—the espresso you can make—is great. Of course, this inexpensive automatic espresso machine can't completely free itself from the chains of its price class, but it doesn't really make pretenses to do so anyhow.
That brings me back to the problems I had with the finest grinder settings, which makes me wonder why they're even offered. Then again, 13 levels sounds better than fewer levels, so perhaps a higher number will convince someone to buy it.
For me, the best thing is that this is a "true" automatic espresso machine. It's totally easy to use and it doesn't attempt to use lots of extra features to try to win over an audience that it simply can't win over.
Funnily enough, more expensive machines essentially do just that. However, their programmability and extra frills can justify a higher price. And of course the material quality is better in many cases.
When compared to the ECAM 22.110.B, the 2900 may be too large for some people. But its good functionality more than makes up for its size.
In the video above I've summarized the most important points for you, and it also lets you see exactly what I'm talking about.
All in all, the ESAM 2900 is a wonderful entry-level product that I can heartily recommend. It's got a great balance between price and performance for anyone who wants good espresso without a lot of fuss, and who doesn't want to spend more than £300 to get it.
I'll be happy to answer any of your questions about the DeLonghi ESAM 2900. Feel free to leave a comment below!