Miele CM 6350 Review
The Miele CM 6350 automatic espresso machine is significantly cheaper than the Miele CM 7500, which we recently tested. The 6350 costs over two thousand dollars, but it can perform as well as its bigger brother. You can find the current price here on amazon.com.
This small automatic espresso machine is also noticeably more compact, but it's similar to the top models in terms of software and functionality. I got a close look at the Miele CM 6350 at the IFA 2016, a huge international trade show for appliances and electronics. Since then, I've been using the machine for two weeks in my own kitchen. It works really quickly, which could make it an attractive choice for large families or small offices.
A High-Quality Miele Machine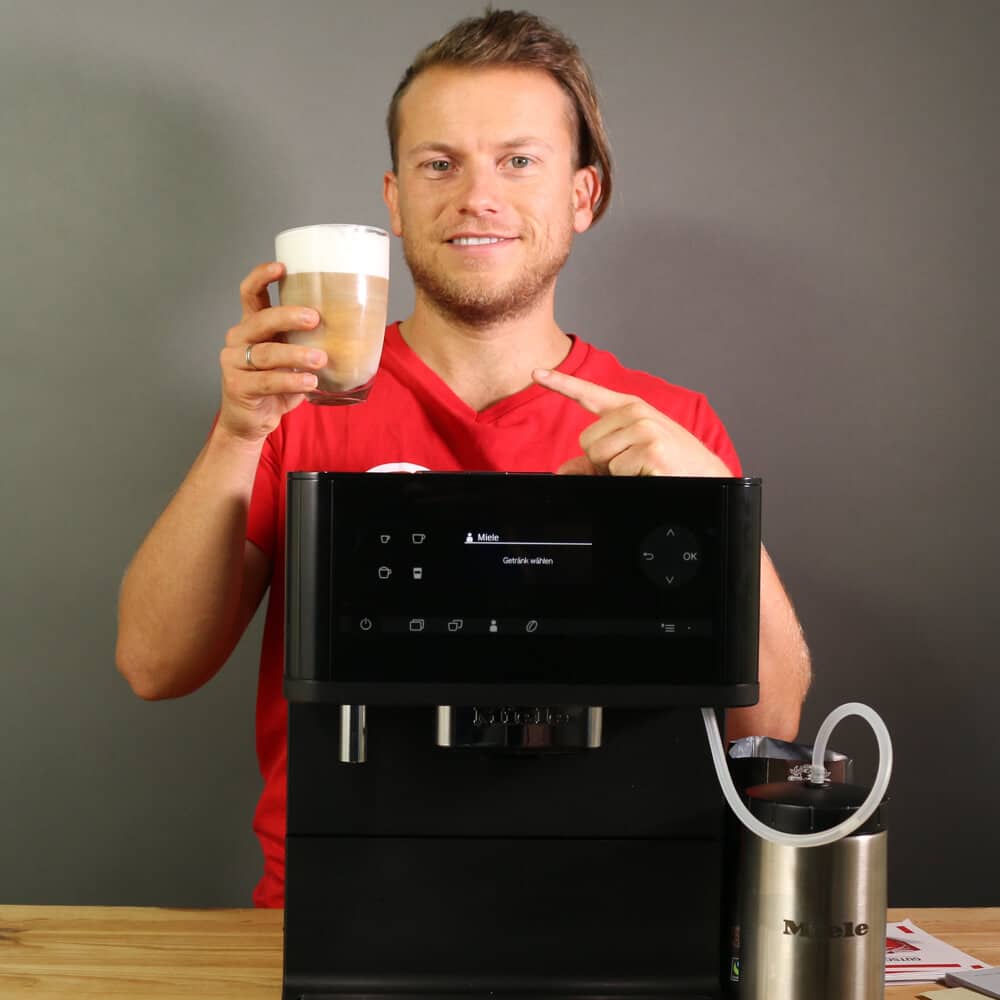 Rated "Very Good" on Coffeeness
It's easy to make an espresso, and you can get a really great caffe latte with just the push of a button. All in all, this is a quiet super automatic espresso machine, although not quite as quiet as the Siemens EQ 9. Then again, the Siemens machine is also more expensive.
Miele also put a lot of thought into how customers can and should clean the machine. I'd say that out of all the super automatic espresso machines I've reviewed, this one is the best in terms of cleaning, or at least it's tied for first place with the Miele CM 7500. All the individual pieces are labeled and it's easy to see which parts can go into the dishwasher. Fortunately, that's most of the parts. The brewing unit is also removable, making it easy to clean thoroughly. However, this machine doesn't give you the option of putting a water filter inside of the water tank. That means on the one hand that you'll have lower recurring costs since you won't need to buy filters, but on the other hand it means that you'll need to decalcify the machine somewhat more frequently.
The best part about the Miele CM 6350, though, is its excellent build quality and really beautiful design. You can order the Miele CM 6350 here on amazon.com.
Advantages
Very easy to clean.
Well-built.
Looks great.
Easy to use.
Works quickly and quietly.
Disadvantages
You can't install a water filter.
Unfortunately, this video is only available in German.
Comparison With Other Miele Automatic Espresso Machines
As is the case with all brands, Miele espresso machines come in several colors, with accompanying strings of different serial numbers. Miele offers two series, starting with the quite large CM 7 models. The other series is the smaller CM 6 models, including the CM 6350 in this review.
Miele CM6110
Neither of the smaller Miele CM 6 models have a touch display, and they also don't automatically adjust to the cup height. They're also significantly smaller than the CM 7 series.
Miele CM 6310, 6300 and 6350
This review is about the CM 6350 "Black Edition," but it's identical in construction to the other CM 6 models. The CM 6310 and 6300 are the earlier models, which don't have the coffee pot setting.
Miele CM7300
This has almost the exact same range of functions as the Miele CM 7500, except for automatic decalcifying. The other main difference is that it doesn't have a stainless steel cup heating tray.
Miele CM 7500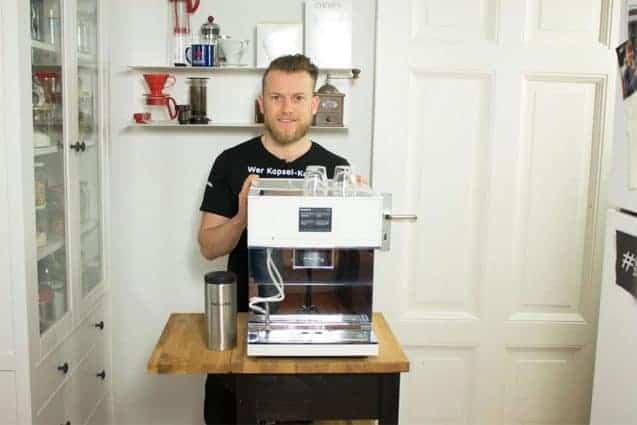 I already reviewed the Miele CM 7500 a while back. It's Miele's flagship countertop automatic espresso machine. It's a beautiful but also very large machine, so it would work best in a big kitchen. I don't really care much for most latte or espresso machines with a white finish, but this one is simply beautiful. You can read the review here: Miele CM 7500
What Colors and Styles Are Available?
Just like with the other Miele CM 6 models, this one is available in several colors. We used the "Black Edition" for this test, which has basically everything in black. There are also other colors available, namely obsidian black, lotus white and graphite gray.
I always think it's hard to comment on colors, but I can say that I like all these Miele espresso machines. You'll need to decide for yourself which one would look best in your kitchen. I think the Black Edition is pretty cool, although I also quickly noticed any specks of dust that stuck to it. Maybe it just means that I need to vacuum more often, though.
Technical Specifications
| Kategorie | Eintrag |
| --- | --- |
| Manufacturer | Miele |
| Name | CM 6350 |
| Cleaning the Milk Hose | Automatic |
| Dimensions | Approx. 23 x 17.1 x 12.8 inches (58.6 x 43.5 x 32.5 cm) |
| Coffee Pot Setting | ✓ |
| OneTouch for Two | ✓ |
| Milk Container | ✓ Included |
| Weight | Approx. 26.5 pounds (12 Kg) |
| Programmable Beverages | ✓ |
| Thermos Coffee Pot | With voucher ✓ |
| Espresso | 4 pounds (2 Kg) with voucher, plus ½ pound (250 g) included |
You can download a PDF of the instruction manual for the Miele CM 6350 here. The manual is also put together very well and very understandable.
Setting Up The Miele CM 6350
You don't need to do much to set up this machine. It's important to thoroughly wash out the water tank and the milk container before using them. Actually, you might even want to rinse them out a few times, and I wouldn't drink the first few beverages that come out of the new machine. That's true for both the espresso and also for the milk. And if you've got a few old coffee beans lying around, you may want to sacrifice them to use while setting up the machine. Later, once everything is good to go, then you can use better beans and enjoy the drinks.
Later on we'll have a closer look at the settings on the grinder and how to measure espresso and frothed milk. For now, one important step is to set the correct water hardness. That's the only way the CM 6 can correctly tell when it needs to be decalcified. You can test your water hardness with a testing strip, or you can also contact your water company. The harder your water, the more often you'll need to decalcify your automatic espresso machine.
What's In The Box
Miele CM 6350.
Stainless steel milk container.
250 g (1/2 pound) of Black Edition No. 1 espresso (with the Black Edition – but it's not that great).
A voucher for 2 kg (about 4.4 pounds) of Black Edition No. 1 espresso (with the Black Edition)
A voucher for a thermos coffee pot (with the Black Edition).
A voucher for a care kit – But they're buy 3, get the 4th "free."
Notes About the Display and the Software
The display is large and clearly lit. It's not a touch display, though; that's only on the CM 7 models. The controls are exceptionally good, and using the machine is very intuitive. It's always a bit difficult to describe a control menu, but I was able to understand how to use everything on the CM 6350 without needing to look at the manual. I was even pleased with the beverage selections. The different available drinks are organized in a logical way.
Many manufacturers of automatic espresso machines can go a bit overboard when it comes to listing the number of different drinks their machines can make. Some often claim they can make between 20 and 27 "specialty coffee drinks." However, I think it's most important that a machine can simply make good espresso and good milk foam using hot milk. If it can do that, then you can also make other drinks like caffe lattes or even the beloved latte macchiato. It's like eating at a fancy restaurant: if the menu is limited, it's actually probably a good sign.
Testing the Espresso Maker
The Miele CM 6350 makes an excellent, high-quality espresso. The espresso setting works very well, and I especially liked how I could do a "pre-infusion" before brewing the espresso. With that setting, the machine adds a bit of water to the ground coffee in the brewing unit before it begins to push the water all the way through. That makes for a better extraction of the coffee. It also means that it releases more evenly the parts of the espresso that give it that wonderful aroma.
At least that was the case when I compared it to my La Pavoni Professional manual espresso machine. The result was a better extraction. And you'll definitely have more possibilities to optimize your drinks. You can also adjust the amount of ground espresso and the resulting amount of liquid espresso that you make. What setting would you use?
Variables to Keep in Mind When Making Your Espresso
The amount of ground espresso.
How fine you want to grind the espresso.
The amount of brewed espresso you want.
To pre-infuse or not to pre-infuse: short, long or none.
Three stages of brewing temperatures.
Those are the variables that you can adjust to change the strength of your espresso. I didn't always change all of them, though. I mostly kept the pre-infusion set to "long," and the grinder set to "fine." I also left the temperature alone. I generally would set it to use more ground espresso, but I noticed that the pucks of coffee grounds from Miele machines can get pretty big. So I just set the amount of ground espresso a bit lower.
I used a coffee from Miele, and I'll talk more about that in a moment. For this coffee, I used the official recommendations from Miele: Pre-infusion: long; Temperature: medium; Grind: 4th setting from the left; Amount of ground espresso: 3rd setting from the left.
On the one hand, the Miele 6350 really has a lot of different settings if you want to use them. On the other hand, you can also just keep things simple, which might be best for beginners.
It also depends on the beans you use.
Which Beans Should You Use for Miele Super Automatic Espresso Machines?
That's always a hard choice to make. If you buy a machine that's this good, you'll naturally want to also use good coffee beans. You can only get something good out of it if you put something good into it. So if you don't use good coffee beans, you won't get good results.
It's therefore natural for many readers to ask what's better: coffee beans or espresso beans? I think the answer is clear: espresso beans. Generally speaking, even a café americano made with espresso beans will taste better than other kinds of black coffee from automatic espresso machines. In the manual for the Miele CM 6350, it actually even says that you shouldn't use the same kind of beans for coffee drinks and for espressos. I think that may be out of date, though, since Miele now offers its Black Edition No. 1 beans—but the package doesn't actually indicate whether it contains espresso or coffee beans.
Based on the beans and their roast color, though, it's pretty clear to me that they're espresso beans. These are 100% Arabica beans from Central and South America (Brazil, Colombia, Nicaragua, and Honduras), with the whole Certification Fun Pack: Organic and Fair Trade. The information sheet even says "Miele Quality Premium Coffee Blend." That's definitely espresso in my book, and even the name "Black Edition" itself should tip us off.
The Miele 7500 also included a package of Illy Espresso, but I didn't care much for it. The Black Edition No. 1 is better. It represents the leap from a mass-produced coffee or espresso to a hand-roasted coffee from a drum roaster. This results in a much fuller aroma and better crema. Still, I wouldn't recommend the Illy beans.
By the way, if you order the CM 6350 "Black Edition," you'll also receive 2 kilos (about 4.4 pounds) of the Black Edition espresso, as well as a coffee pot. Of course, I also tested the pot right away. On the box it says it's "ideal for making espresso, coffee and specialty coffee drinks with milk." I was quite pleased with the espressos and caffe lattes that I made with the Black Edition No. 1 beans. They were rather smoky and a tad bitter.
If you're looking for other espresso bean recommendations, you should check out the Espresso Reviews category here on Coffeeness.
Trying Out the Milk Frother on the Miele Automatic Espresso Machine
The milk components on the Miele CM 6350 work quickly and they work well. It's also a really easy system to clean thoroughly. When the milk first starts coming out of the machine, it really lets it rip – "WOW!" I thought, "Look at it go!" But then the automatic milk frothing system kicks in and starts efficiently doing its thing. It's also already set at the optimal temperature, and the milk's consistency and taste won over everyone in our office.
For years now, I've been schlepping new automatic espresso machines in and out of our office every week, and my other four coworkers have been lucky enough to help out with the testing and sampling. They were noticeably more excited about this machine than most of the others. They even liked the Black Edition No. 1 beans.
I noticed that we—myself included–especially "tested" lots of "samples" of caffe lattes and drinks with foamed milk. Usually the attitude is, "Ugh, another espresso machine to test?" But with the Miele CM 6350, it was more like, "Hello, what have we here? Can we keep it?"
The fact that the machine can quickly dispense and froth the milk is likely also useful for people who are short on time or who work in small offices. It's definitely cool that you can quickly make two double servings of cappuccinos.
In other words, I give two thumbs up to the milk frothing system.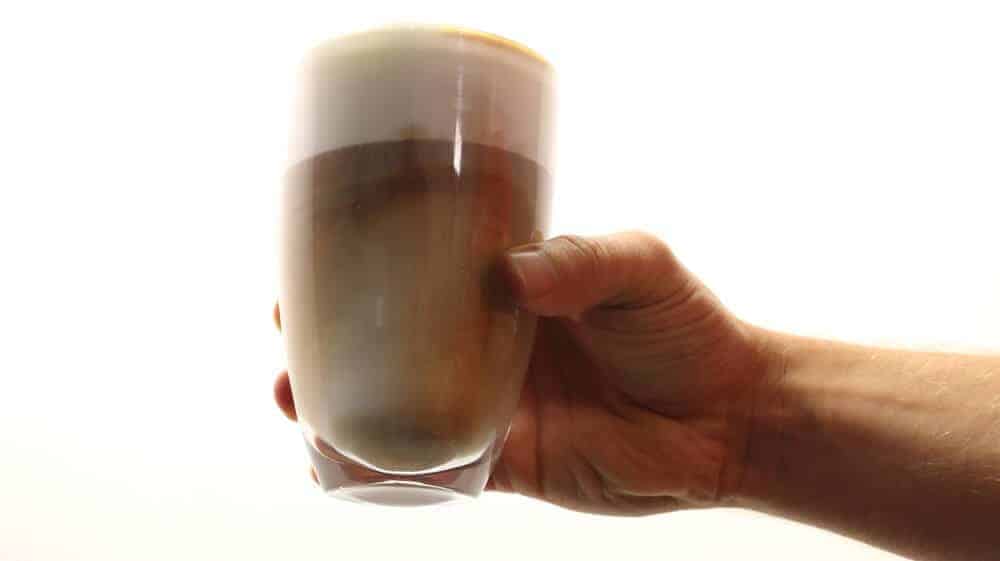 Using the Grinder
Under the lid on the right side of the CM 6, you'll find the control to adjust the grinder. It has five different settings. Especially if you're adjusting it to get a finer grind, you should only move it a little at a time so that the grinder doesn't get jammed. That means that you should only move it one step finer (to the left) at a time, and then try it out by making an espresso.
If that doesn't work the way you want it to, then you can try the next level. Also, keep in mind that you'll only really see the results of the new setting after making one or two espressos, because it takes one or two cycles for all of the newly ground coffee to move through the machine.
Every time you open up the lid, you should also empty out the water tank. The software in the machine will then reset the level to 0, which is good—you don't want it to overflow. I then set the grinder to the next finest level.
The External Compartment for Ground Coffee
These compartments for pre-ground coffee are becoming standard on almost all super automatic espresso machines. They're basically a kind of bypass that goes around the grinder, letting you use coffee that's been previously ground. I advise against using them, though, regardless of the machine or the manufacturer.
These compartments are always more hassle than they're worth. And that's the reason that I don't even test them anymore. First of all, powder from the ground coffee always manages to stick to the walls of the compartments. That's because of the high humidity. What's more, the coffee is often ground too fine or too coarse, which means that it doesn't work well in the machine.
Just like with all other espresso machines, it's very unlikely that I'd use the compartment for ground coffee on the Miele CM 6350.
After all, the best thing about an automatic espresso machine is that it freshly grinds the beans every time you use it. In my coffee bean reviews I also always advise against buying pre-ground coffee. Using whole beans is the secret to unlocking that wonderful aroma.
Using the "Personal Profile" Settings
This machine lets you program in different personal profiles for different users. You can also include a name with each profile, which is something that you can't do with all machines. Machines from other brands only let you include a number for each profile. So, naturally, I set up my own "Arne" profile.
The machine used my profile to save all my preferences for the different drinks I made. You can also include additional profiles with different names, of course.
Using your profile, your can make a "personalized" espresso, ristretto, cappuccino or whatever other drink you want. You can also search for your own settings by using your name. Everything works very well, although that's not necessarily out of the ordinary for an espresso machine in this price range.
Cleaning the Miele CM 6350
Miele did a good job of providing a simple, well-designed cleaning process for the CM 6350, which helps explain its very good test results. When testing the Miele CM 7500, I liked how the individual components were clearly labeled. Every piece lets you know if you can wash it in the dishwasher or not. Most parts can go in the dishwasher–which is very practical, of course.
It's easy to take everything apart and put it back together again. In terms of cleaning, Miele is ahead of its competitors.
The Removable Brewing Unit on the Miele CM 6350
A removable brewing unit has become a standard feature on machines from all brands, with the exception of Krups and Jura. I think this is a very important feature. It makes it even easier to thoroughly clean the Miele CM 6350. I'd take out the brewing unit and clean it every day that you use the machine.
The manual says that you should clean the brewing unit "weekly." Personally, I'd wash it out every day under running water. The fussier you are about cleaning the brewing unit, the longer your espresso machine will keep on trucking.
And while you're at it, I'd also suggest cleaning out the grounds container, the drip tray, the drip tray cover and the milk container. When using the milk container, be sure not to simply add more milk when it gets low. Instead, every time it gets empty, wash it out first, and then fill it up with fresh milk. Otherwise, some of the older milk will stay in the container, and the milk will go bad sooner.
Even the milk nozzle can be taken apart easily. If it becomes clogged, just soak it in warm water.
The Water Filter and Decalcifying
You can't mount a water filter in the water tank of the Miele CM 6350. It's therefore especially important to set the correct water hardness in the machine's controls. Since you won't be using a water filter, you'll probably save about 15 dollars, but you'll have to decalcify the espresso machine more often as a result. That's the cheaper option, but you'll have to deal with the decalcifying solution in the machine.
If you don't want to deal with that, you can also buy softened water or use an external filter. For example, you could use a classic Brita water pitcher to filter your water before pouring it into the water tank on the CM 6.
The Hose and Nozzle
It's really great when something works automatically. However, I'm also usually a bit skeptical about some automatic features. But the setting to clean out the hose on the Miele CM 6350 is actually really good. Instead of connecting the hose to the milk container, just stick it in the drip tray. Then choose "Clean Hose" in the menu, and the machine will blow hot steam through the hose. That works even better than cleaning it by hand.
The coffee nozzle is also self-cleaning. It cleans automatically when you turn off the machine, and also when you turn it on. I know that many readers don't like that, but personally I think it's excellent. It's great when the machine cleans itself because otherwise many of us would simply forget to do it ourselves.
The Milk Container
The high-quality milk container is made of stainless steel. It has good insulation but can also be stored in a refrigerator. Or if you'd prefer, you can also simply stick the milk hose into a carton of milk. The advantage of doing that is that you can just toss the carton when it's empty. Most users seem to do exactly that after using the machine for a while, and it's also become the norm in our office.
The Water Tank and the Catch Tray
As noted before, almost all the compartments and components can go in the dishwasher. However, I'd generally avoid doing that, and instead simply wash them out with running water. That's completely fine. Also, you should be careful to avoid getting coffee residue in your dishwasher. That's always a pain to get out.
Unfortunately, it's easy to forget to clean the water tank. Every time you fill it up with fresh water, be sure to rinse it out first. I'd also suggest that once a month, you should let it dry out completely, and then wipe out the inside with a clean cloth. However, I'd definitely not use any kind of dish soap to clean it out.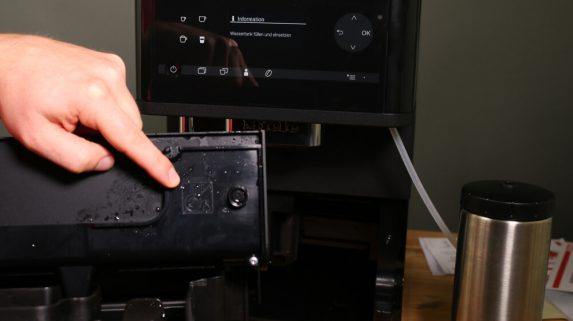 The Cleaning Program
The automatic cleaning program works well, but you should still definitely follow the cleaning steps outlined above for the Miele CM 6350. Also, be sure not to ignore the notification if the machine says it needs decalcifying. This program is the only way to clean the inside of the brewing unit. Of course, it's also important to clean the brewing unit on the outside, but that's an extra step, not a substitute for cleaning the inside. To use the cleaning program, you'll need cleaning tablets and decalcifying tablets. These are links to original Miele tablets on Amazon, but you can also feel free to use cheaper substitutes.
Cleaning the Machine Before a Trip
This is an especially important "Bonus Tip." If you're going away for a while, such as on a vacation, you should clean out the machine with the cleaning tablets. Obviously, you'll also want to empty and clean the milk container. I'd also empty the water tank and store it when it's try. I'd then take out the brewing unit, clean it and then leave it outside of the machine. Leave the lid open. Finally, don't forget about the drip tray or the grounds tray. If you follow these steps, you'll return from your vacation to find a clean, mold-free espresso machine waiting for you.
Summary of the Review
I very rarely give full points to any of the machines that I test, but I believe the Miele CM 6350 (Black Edition) warrants it. With its size, it can fit comfortably into any kitchen, and it's very impressively made. All of the experiences I had with the machine were good. Even the way that the other people in my office reacted was a clear sign that the design was striking. Of course, the rating is also based on the machine's good functionality.
When comparing the price of this machine to the significantly larger Miele CM 7500, the Miele CM 6350 is a clear winner. It costs half as much and therefore has a better balance between price and performance. The Black Edition also includes the voucher for 2 kg of Black Edition No. 1 espresso. If you trade that in, you'll also receive a free thermos coffee pot to use with the coffee pot setting.
A High-Quality Miele Machine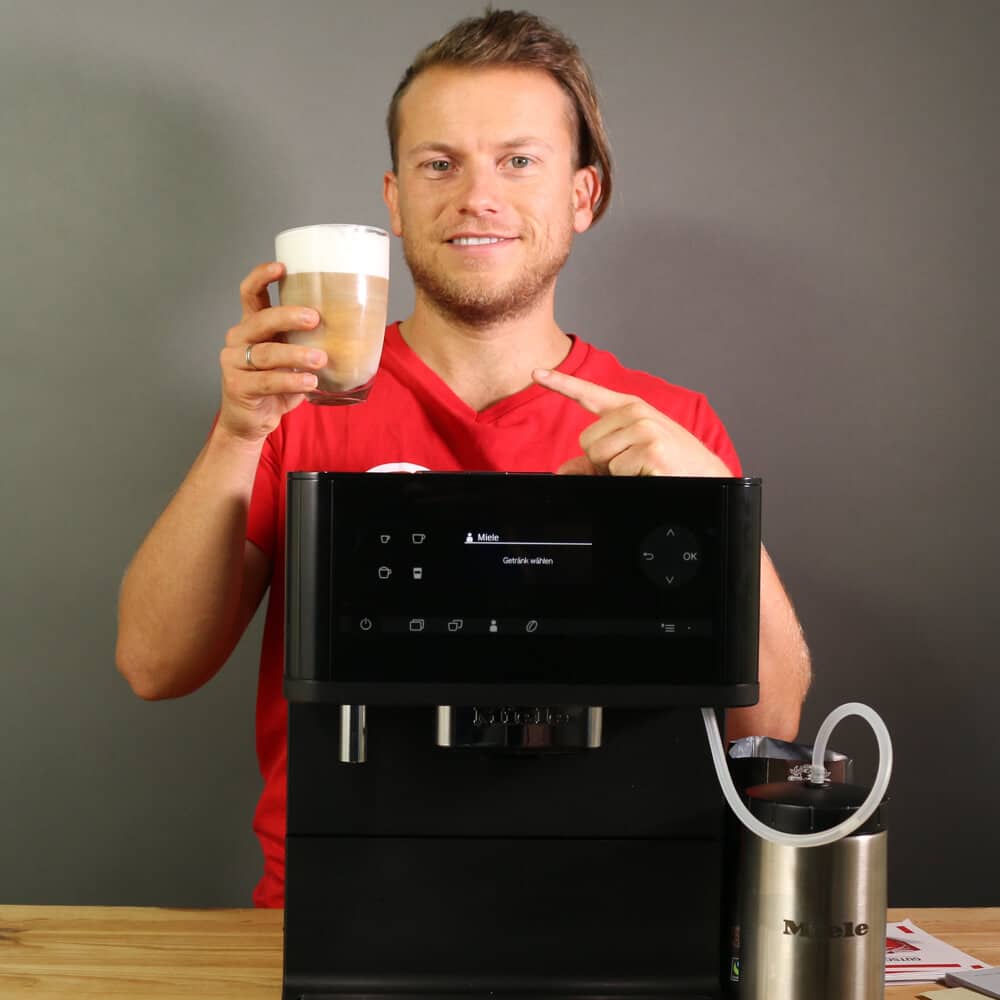 Rated "Very Good" on Coffeeness
I've also read many other reports and reviews of the CM 6 series, and the buyers all seem to have good things to say about them. The Miele CM 6350 is the current model, a follow-up to the Miele CM 6310. The Black Edition is especially interesting, as it includes the free coffee pot and espresso.
Other than the color, though, this model is identical to the other CM 6350 models, which you can likely get for a bit cheaper. It might just depend on how much the insulated coffee pot is worth to you. And finally, even the other components, such as the stainless steel milk container, are well made and give a good impression.
I also really liked the many ways that you can adjust the machine's settings. The quality of the espresso is very good, and the foamed milk is also good, and only takes a short amount of time to make. The pre-infusion setting is also a great way to further optimize your coffee drink.
I can definitely recommend this machine. You can order the Miele CM 6350 here on amazon.com.