Review and Buying Advice for the Jura Impressa C60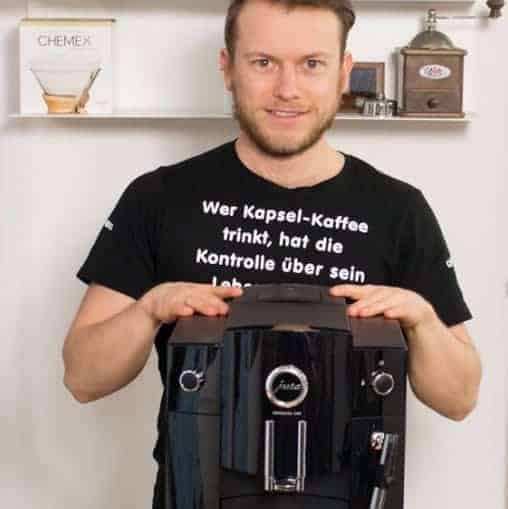 Review and Buying Advice for the Jura Impressa C60
After I finish writing a review of a super-automatic espresso machine, I like to look at how other platforms rated the machine to see if we agreed or not. I also check out the ratings, opinions and experiences that people post on Amazon. In this case, I just can't understand how this machine has gotten so many positive reviews.
Not only did I have a very different experience from what other users seem to have had, but my experience was also quite different from the results of Stiftung Warentest, a German organization that tests and rates all kinds of products. They gave this espresso machine a rating of "good."
To get this out right at the beginning – Spoiler Alert! – I was disappointed by the Jura Impressa C60. Therefore, I can't recommend it.
The "one-touch button" concept is confusing and impractical.
The milk foam is watery, which is something that I have never seen happen with a machine in this price range. It also didn't have enough power when it came to making espresso.
It lost even more points because of the grinder, which made a lot of noise while producing a grind that was too coarse.
My mugs didn't fit underneath the low spout. What's more, the area where you are supposed to put your cup or mug under the "Fine Foam" nozzle is also too small, and making the milk foam becomes a balancing act.
Additionally, the catch trays slide around and are all rickety. That simply doesn't fit with Jura's reputation.
This was the first Jura super-automatic coffee machine that I've tested. It is definitely possible that their more expensive machines are better, and I'm curious to find out.
The Melitta Caffeo CI is in the same price range, and it did much better in my tests. You can find the review of that machine here.
I really had different expectations for this machine before I tested it. That is why it was good to personally test and review it!
If you don't want to heed my advice, you can buy the Jura Impressa C60 here on Amazon:
Advantages of the Jura Impressa C60
You can select the strength of your coffee.
You can also select how much espresso you want.
It warms up quickly.
You can put in a water filter (Claris Blue brand).
Disadvantages of the Jura Impressa C60
The brewing unit is fixed in place.
It has a small catch tray for water and grounds.
It's loud.
It provides a poor performance for the price.
There has a poor menu operation.
It produces watery milk foam.
It has low spouts.
YouTube Video:
Unfortunately only available in German.
Technical Specifications – Jura Impressa C60
| Kategorie | Eintrag |
| --- | --- |
| Manufacturer | Jura |
| Name | IMPRESSA C60 |
| Model Number | 15022 |
| Can make two drinks at the same time | ✘ |
| Spout height | 2.5 inches to 4.4 inches (65 - 111 millimeters) |
| Grinder | Conical grinder |
| Grinder settings | 5 Levels |
| Compartment for ground coffee | ✓ |
| Amount of coffee beans | Approx. 7 ounces (200 grams) |
| Amount of ground coffee used | Approx. 1 to 3 teaspoons (5 to 16 grams) with four levels |
| External milk container | ✘ |
| Display | Plain text and graphics |
| Can program personalized drinks | ✘ |
| Amount of espresso you can make; adjustable | Approx. 0.9 to 8.4 ounces (25 to 240 milliliters) |
| Removable brewing unit | ✘ |
| Water tank capacity | 1.7 quarts (1.9 liters) |
| Water filter | Can put one in (Claris Blue) |
| Indicated maximum pump pressure | 15 Bar |
| Length of power cord | 43 inches (1.1 meter) |
| Color | Piano Black |
| Power usage | 1,450 W |
| Voltage | 230 V |
| Variable temperatures | Adjustable to two levels |
| Weight | 21.1 pounds (9.6 kiligrams) |
| Height x Width x Depth | 13.6 in x 11 in x 16.1 inches (34.5 cm x 28 cm x 41 centimeters) |
| Warranty | 25 months |
| Milk system | External cappuccinatore frother |
Click this link to download a PDF of the user's manual for the Jura Impressa C60 directly from the Jura website.
Similar Models and Variations
In addition to the C60 that I'm reviewing here, Jura also makes the Impressa C65.

Jura Impressa C65
The only difference between the C60 and the C65 is that the C65 has a facade that's partially finished with imitation stainless steel. Otherwise, the machines are completely identical and available at a similar price. The C65 is called the "Platinum" model, as opposed to the "Piano Black" C60.
Setting Up the Jura Impressa C60
The Jura Impressa C60 has a basic, one-line display. The machine uses the concept of a "one-touch button" to make drinks. This means you control the menu by turning the dial and pressing the button.
This whole concept quickly aggravated me. If I wanted to tweak an espresso to my liking, I needed to dial and click through seemingly countless menus. Then, once I had adjusted the settings for my espresso, I needed to follow the same steps, only backwards, to get back to the main menu.
In the end, I was able to get everything working, but it wasn't very intuitive – just annoying.
To give one small example: When you're in the main menu and choose "Espresso," the menu simply says "Espresso." Then, when you go into the drink settings and make adjustments, the display still only says "Espresso."
This may not sound very dramatic, but I found it confusing since I wasn't sure what menu I was in at a given moment.
What's in the Box
A Claris Blue water filter cartridge
A testing strip for calcium concentration in the water
Two cleaning tablets
A plastic scoop for ground coffee
A Note About the Display
In the picture below you can see the one-line display with the previously-mentioned "one-touch button." This is obviously not a cutting-edge display. You have to press and hold the "P" in order to access the menu. You make milk foam by pressing the "steam" symbol.
It is a very typical display for an entry-level automatic espresso machine.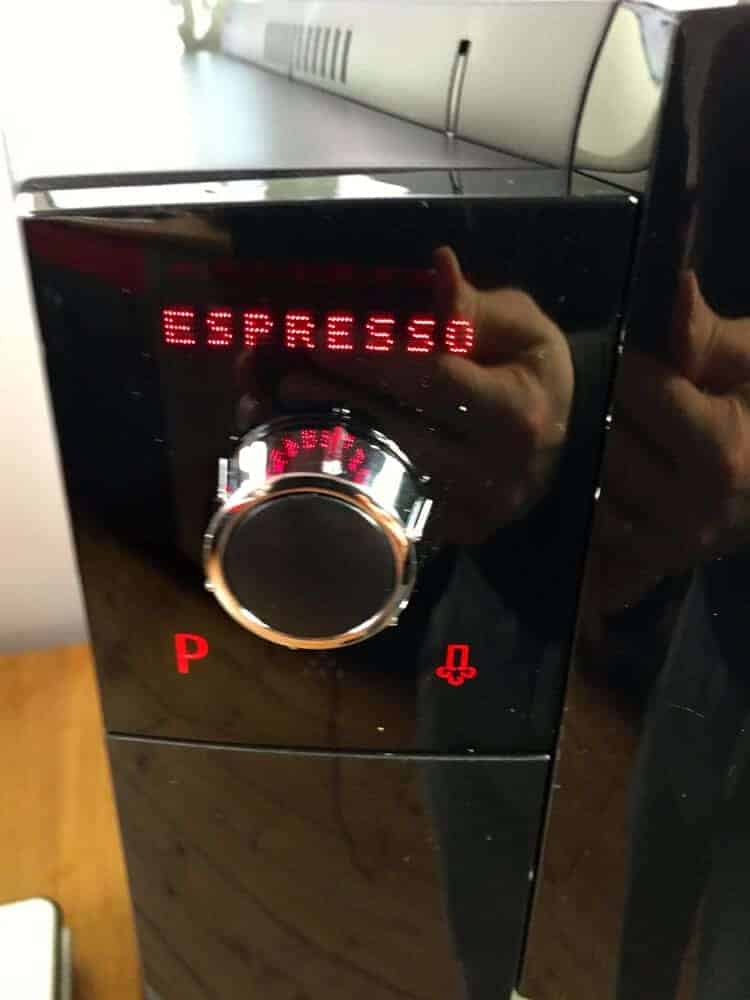 Making Milk Foam with the Jura Impressa C60 Super-Automatic Espresso Machine
Super-automatic latte machines have three different methods to make milk foam. A rule of thumb: The more expensive the machine, the more automatic the milk frothing process. The three ways are:
Manually froth the milk with a foam wand. An example is the Amazon.com. This method is common for inexpensive automatic espresso machines. You need to make the espresso first, and then froth the milk by hand, using a small pitcher. The downside of this method: It's more work. The upside: With a bit of practice, you can get very good, personalized results.
Then we have the models with an external cappuccinatore milk frothing system. With these, you need to personally move the cup to a different physical position after making an espresso. This is the system on the Jura Impressa C60 and C65.
The most convenient solution is to have an integrated milk foaming system, like you find on the Melitta Caffeeo CI. With this system, you can make the entire drink with just one push of a button.
On the Jura Impressa C60, the cappuccinatore is set to the side of the espresso spout. You need to use a tube to connect the cappuccinatore with the milk you want to use.
To do this, you need to pull out the little plug and connect the milk.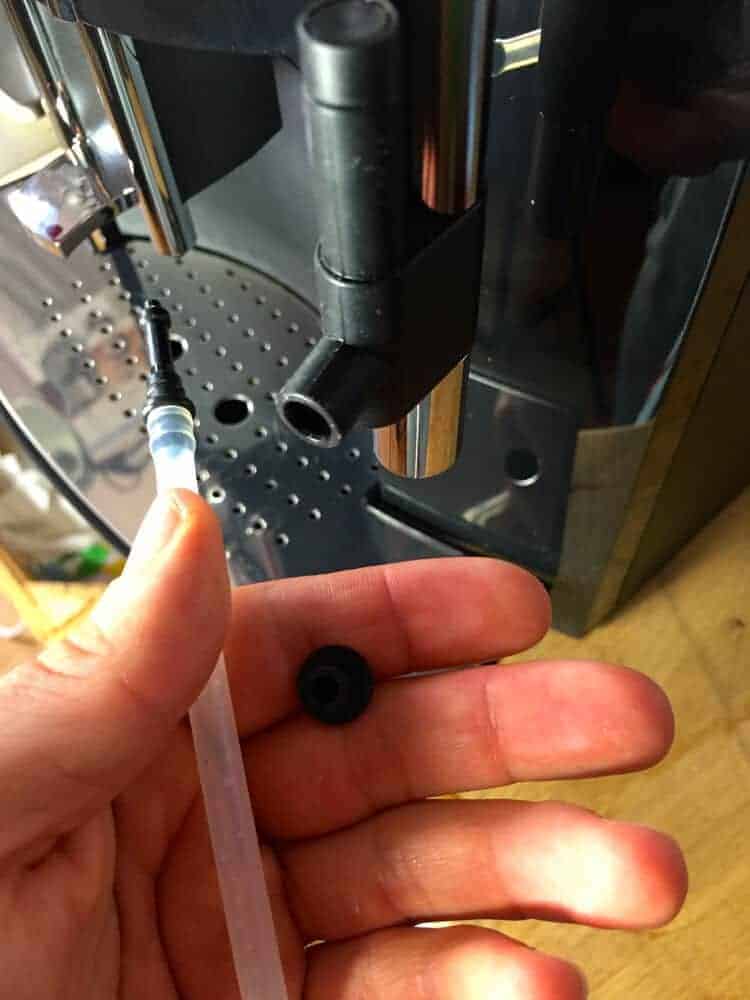 You can use whatever kind of milk container you like.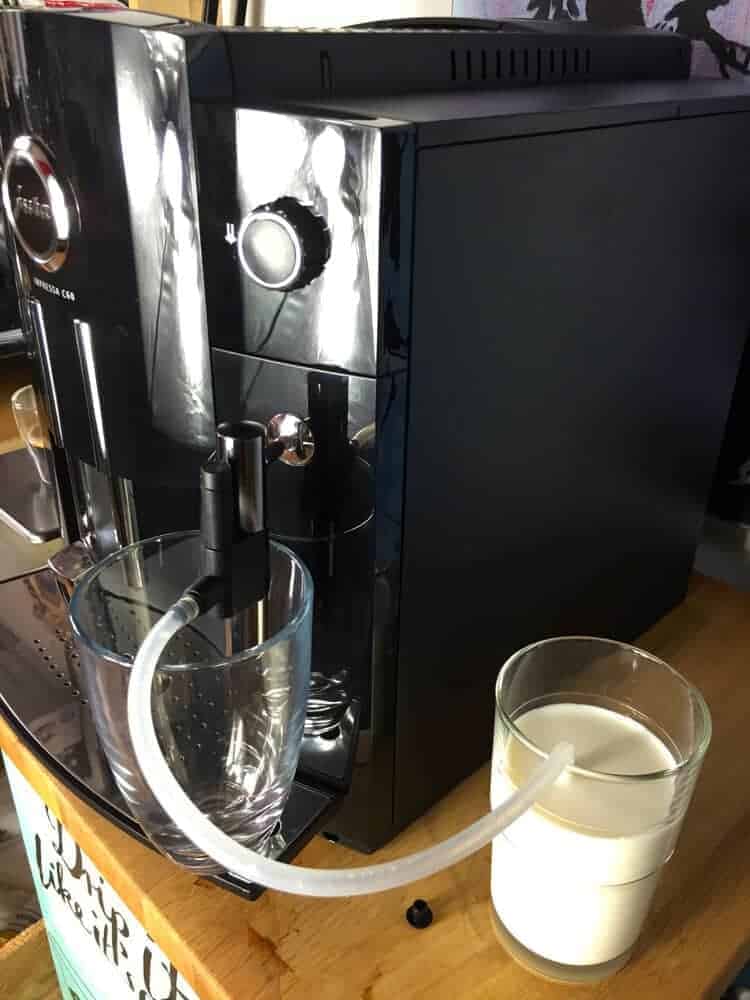 Now the Jura Impressa C60 espresso machine needs to warm up. That's normal, though, and it is relatively quick.
I used a small latte macchiato glass, which, as you can see, doesn't completely fit onto the tray.
Because of this, it seems like the glasses are always about to fall over. The coffee spout and the milk spout are both so low that they're a disaster waiting to happen.
The milk foam spout can be set even lower, believe it or not, to about 3 inches (8 centimeters). However, not a single one of my glasses or mugs fit under it at that height.
I had to angle this glass to fit it under the spout. As you can see, the foam spout goes deep into the glass. That's pretty dumb, though, since I now can't remove the glass when it's full of hot foam and coffee.
Alright, but what about the milk foam quality? Jura calls its system a "Fine Foam" frother. It produces milk foam with a consistency comparable to other super-automatic espresso machines.
However, when it starts up, about 2 teaspoons (10 milliliters) of water come out of the wand. I can't say how much more water goes into your cup as you finish the process.
In comparison to other latte machines that I've tested, the hot milk foam from this machine is unfortunately a bit watery.
Making an Espresso with the Jura Impressa C60 Automatic Espresso Machine
I set the level of ground espresso to high and chose a fine setting on the grinder. If I didn't do that, the espressos were noticeably too watery.
The minimum amount of espresso you can select is 25 milliliters, slightly less than an ounce. I chose that amount because an espresso should be between 20 and 25 milliliters. It's even more accurate if you weigh it, since volume can vary depending on the crema.
I was able to choose the amount of espresso I wanted.
The espressos I made were between 22 and 28 grams (between 0.8 and 1 ounce). At first glance, that may seem like a big inconsistency, but in comparison to other super-automatic espresso machines, that's actually a pretty good result.
The espresso flows through the machine a bit quickly. Also, the crema is very light, especially compared to a really dark espresso that you'd get from with a machine with a portafilter.
The espresso tastes OK, but it's too weak for my taste – and that's even with a fine grind and the most amount of coffee.
Another thing that especially stood out:
The pre-infusion step pushed quite a bit of water through the puck.
During the pre-infusion, the coffee in the brewing unit comes into contact with hot water. However, it's not under very much pressure, and you can even hear this by the sound it makes. After the pre-infusion, the pump really gets going, and the actual brewing begins.
The purpose of the pre-infusion is to make sure that the ground coffee is evenly moistened, to ensure consistent extraction when brewing begins.
If the water is actually flowing through the coffee during the pre-infusion, though, then something isn't right.
In this case, I would bet that the problem is with too-coarse coffee grounds, even though it was on the finest setting. Because of that, it can't build up enough pressure on the coffee. It also explains why the espresso comes out so quickly.
Customizing the Programmed Drinks with the Jura Impressa C60
You can choose from the four coffee options:
Single coffee
Double coffee
Single espresso
Double espresso
Along with these options, you can choose the amount and the strength you would like. You can also choose a coarse or fine setting on the grinder.
You need to make the milk foam manually by using a switch. This means that you can't choose the amount of milk beforehand.
The Grinder and Coffee Bean Compartment
The Jura Impresso C60 has a stainless-steel conical grinder, and it's pretty loud.
This machine and the DeLonghi ECAM 3000 B are the loudest super-automatic espresso machines that I've reviewed.
The coffee bean compartment holds about 7 ounces (200 grams).
The compartment for whole beans is on the right side of the machine. It's unusually narrow, though, and it's not especially easy to pour in the beans.
You turn the dial on the right to select the grinder setting. I set it as fine as I could.
The Compartment for Ground Coffee
The Jura C60 has a separate compartment for ground coffee.
This compartment bypasses the grinder and leads straight to the brewing unit.
This might not seem like a useful feature for an espresso machine that can grind coffee beans by itself. However, it could possibly be useful if someone in your family wants decaffeinated coffee, in which case you could use the compartment to hold it.

TheSpout Height
The spout is very low. Only my shortest glasses fit under the Jura Impressa C60. It's noteworthy, though, that the spout for the milk foam is even lower. It is therefore a pain to use glasses that are taller than 3 inches (8 centimeters).
It can go down pretty far, too.
My espresso cups fit very well under the 2.5-inch (6-centimeter) height. That's actually good, since they often don't fit well.
Cleaning the Jura Impressa C60
Cleaning is always important when it comes to automatic cappuccino machines.
Espresso machines that are made by Jura have a brewing unit that can't be removed, as it is built into the machine.
This is a touchy subject. For many people, it's a nonstarter. These days, all manufacturers – except for Jura and Krups – have started using removable and replaceable brewing units.
Jura's website says:
"Simple cleaning with the push of a button: An automatic, hygienic cleaning program with hot water (175 degrees Fahrenheit / 80 degrees Celsius) and cleaning tablets means you don't need to remove the brewing unit." (Melitta Caffeeo CI) Even if I believed all that — and I'm pretty skeptical — removable brewing units still have three important advantages:
You can replace them if they break, and you don't need a plumber to do it – it's super easy.
You can really open up the machine and let it completely dry out. This is useful if you go on vacation, for example. After all, you don't need the water to stay at 175 degrees for several weeks.
Based on my experience, if a machine has a non-removable brewing unit, then the grinder can only be set to a fairly coarse grind. Otherwise, you run the risk of clogging up the brewing unit. Obviously, that's especially annoying if the brewing unit is built-in, which can cause it to break.
All things considered, I think a removable brewing unit is a good thing – even if you can only clean the inside by using a cleaning program.
The Milk Tube and Frother
You can use the tube to connect the "Fine Foam" milk frother to a milk container of your choice.
I always think it's handy if you can also connect the tube directly to the drip tray. That way, you can automatically clean the tube by washing it out with with hot water and steam.
Unfortunately, you can't do that with the Jura Impressa C60.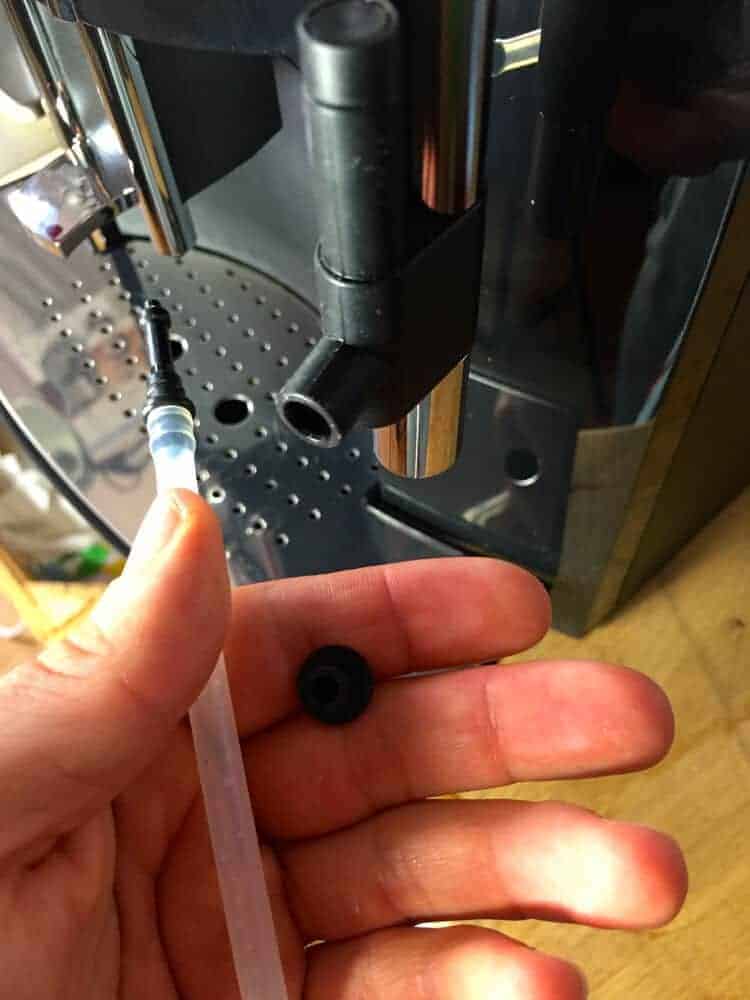 The Water Tank, the Water Filter and Decalcifying
The water tank holds 1.7 quarts (1.9 liters). It's strong, and it's easy to handle and to remove.
You can put a Claris Blue water filter into the tank. If you use a filter, you'll have to decalcify the Jura Impressa C60 espresso machine less frequently. However, you'll also obviously have to take into account the extra cost of purchasing filters.
The Coffee Grounds Tray and Drip Tray
There are three components that catch the coffee grounds and water. Usually there are just two.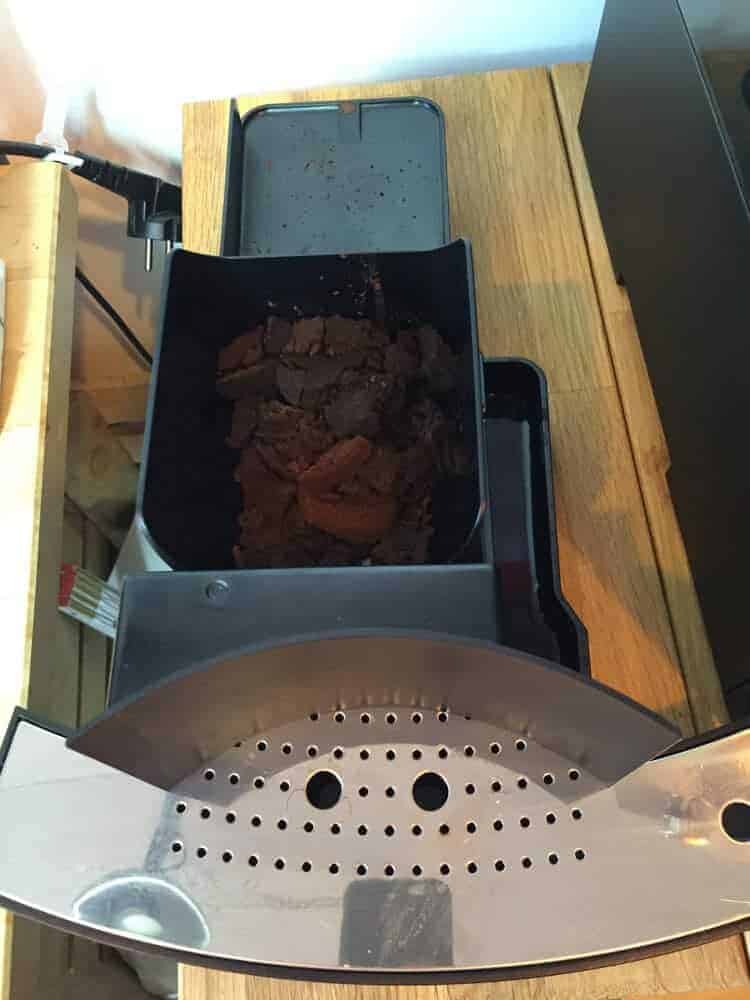 Above is the coffee grounds tray. You can see that the coffee pucks aren't really compressed, so they break apart. Still, they are nice and dry.
The size of the coffee grounds tray on the Jura Impressa C60 is adequate.
This second part is placed between the two other trays. It goes on top of the drip tray, and then the coffee grounds tray goes on top of that.
Then way on the bottom is this really, tiny drip tray.
I don't understand the point of this middle tray. You just lay it between the others, but there's nowhere to snap or lock it into place.
This three-piece setup is really wobbly. It's also not as easy to put back into place as with other automatic espresso machines.
It makes the machine feel less solid, while making it more difficult to clean.
I'd recommend simply rinsing out the individual pieces under running water every day.
Rating and Summary of the Review – Jura Impressa C60
Over all, my experience with the Jura Impressa C60 was underwhelming. Even the strength of the Jura brand wasn't able to change the sad facts of this inadequate machine.
Sure, you can select the strength of the coffee and the coarseness of the grind, but the resulting espresso still wasn't good. I also thought it was glaring how much water flowed through the puck during pre-infusion. That's not a good sign.
One good thing is that you can put a water filter in the tank. Also, the Jura Impressa C60 warms up quickly.
The build quality isn't very great: from the narrow bean compartment to the wobbly drip tray situation.
It's even difficult to navigate the menus.
The whole milk foaming setup doesn't work well for me because it's too low for my cups and glasses.
Cleaning is a pain, not only because of the non-removable brewing unit, but because you can't easily clean out the milk tube with steam from the machine. The catch trays are also awkward.
To sum it all up: With this machine, you simply get less than what you should, based on its price.
For all of you who don't want to listen to me, you can buy the Jura Impressa C60 here on Amazon.
However, why not check out these better choices?
Better Alternatives to the Jura Impressa C60
Melitta Caffeo CI
If you are looking for something in the same price range, but with much better results, I recommend you check out the Melitta Caffeo CI. You can read my full review here.
Siemens EQ 6 700
Sure, the Siemens EQ 6 700 is somewhat more expensive, but it's a feast for the eyes! Here is my review (only available in German) of this very good super-automatic espresso machine.
If you have a look at both of these reviews, you'll notice that I'm generally not a Negative Nelly. It just so happened that, this time around, I didn't have too many positive things to report.